Spring Cleaning Is Here!
Feb. 9, 2021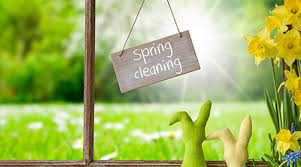 SPRING CLEANING IS HERE!
Spring always reminds us to clean and throw away the old! This also applies to your CPAP!
Here are helpful hints to make it easy to care for your CPAP for optimal treatment.
Daily Cleaning
Wash the cushion of the mask and nasal pillows with warm soapy water

Cleaning your mask will remove facial oils to optimize your mask's seal

Make sure the water in the humidifier is replaced nightly!

Allow the mask to air dry before placing it on your face
Weekly Cleaning
Check the filter in the back of your machine

The grey filter can be washed with warm soapy water and air-dried

The white filter cannot be washed and must be REPLACED

Wash the hose and headgear with warm soapy water as well

Hang your hose over the shower rod to air dry

You may also use Dawn dish soap for any of the components instead of normal soap

Once a week clean your humidifier with warm soapy water, DO NOT PLACE IN DISHWASHER

Wipe down the CPAP machine with a cloth
REMEMBER….filters should be replaced every 3 months to avoid bacteria traveling to your lungs!
And it is important to replace your mask regularly to ensure you get effective and comfortable treatment!
CanSleep is always happy to check your pressure and machine annually to make sure the machine is working properly for you!